Timeless Lace Wedding Dresses




Monique Lhuillier lace wedding dress

Season after season, lace wedding dresses features on catwalks from New York to Paris.

White crochet lace rules in the summer, while in the winter, nontraditional colored lace make a splash in special occasion party dresses as well as wedding dresses.

But just how long has lace been in fashion?

Why is lace such a legendary and favoured fabric for wedding dresses?

And why do the Hollywood starlets and Royals love it so?
Lace lives from past, present times...
Queen Elizabeth I who was known to be a high profile laceophile in the 16th-Century, was responsible for starting the tradition of lace wedding dresses and putting lace on the fashion map. 

The delicate openwork fabric, lace, has truely sustained the test of time and over the years, has found its way into all sorts of wedding staples: veils, corsets, handkerchiefs, aisle runners, invitations, decor and lingerie. 

Netted fabrics date back to the most primitive civilizations, with fishing nets being a prime example. More ornamental meshes from 2500 B.C. have been unearthed by archaeologists, but Sumerians were the ones who started using lace on garments in 4000 B.C. The decorative types we are more familiar with surfaced in Europe in the 15th century. Belgium, was one of the original hubs for lace making.
By the Renaissance, lace had become an incredibly prestigious element of fashion, due to the impressive workmanship involved in its production. Months might be spent working on just a couple of inches of lace, says Valerie Steele, director and chief curator of the Museum at the Fashion Institute of Technology in NYC. "Lace's peekaboo quality was another selling point since it appealed to people in a sensual way, concealing and displaying simultaneously. Once machine-made lace led to mass production people paid fortunes for real handmade lace." Valerie Steele 
After its boom in the 1700s, lace had a slight dip during the recession that was associated with the French Revolution. However, it came back to rule in the late 1800s. 

In Vigee Lebrun's portrait in 1785, Mary Antoinette shows off her modern and fashionable dress with frilly lace details on the sleeves and around the neckline.
In the 19th century Queen Isabel II of Spain brought the silk and lace Mantilla up to high society fashion.
She declared a symbol of elegance to this old tradition and devotional practice of Catholic spanish women wearing Mantilla costumes. 
Below left, a young Mexican woman poses in a black Mantilla costume. Photo by Clifton Adams National Geographic Stock. (1928) 
Below right, Oscar de la Renta's modern lace mantilla design is sensational with the wild tulle mix from top to bottom. 
In July 2013, in Milan's Sposaitalia, Lusan Mandongus presented her 2014 collection including this magnificent lace wedding dress.

Did you know that a lengendary story was behind the the well-known tradition of Burano embroidery on lace veils? 

Once upon a time, there was a fisherman. He was fishing in the lagoon on his wedding eve, when a siren tried to seduce him with her enchanting music. He resisted her, and while she was leaving, she bit his boat with her tail… & from the foam of the water, a wonderful veil came out. The fisherman decided to give it to his bride.

On the day of the wedding, the bride was so beautiful that all the girls of Burano tried to make a veil as beautiful as hers from that day on…
...into the future
While in the 1920's heyday, lace made the flapper chic silhoutte happen often at below-the-knee length, contemporary designers in the 21st century still continue to dedicate their collections to lace. 

In its Fall/Winter 2008/09 collection, Prada communicated the idea that lace should see a woman through life from birth to death as it kick-started a lace renaissance on the high street.
From left: guipure lace turns into mesh at Calvin Klein; external corsetry at Alexander McQueen; briefly elegant at Erdem; Valentino's subtle sheer beauty.

It's not only today's leading fashion designers like Prada or Calvin Klein who are bringing boudoir-influenced clothes into the light with loads of lace, satin and chiffon in peek-a-boo looks.

Leading haute couture wedding dress designers from Vera Wang to Reem Acra, Marchesa to Inbal Dror are also tastefully transfering the Peekaboo fashion trends into designing innovative sexy wedding dresses.

The elegance and femininity of sexy lingerie design and fabrics in wedding dresses fashion is enabled with rich and textured sheer fabrics such as lace.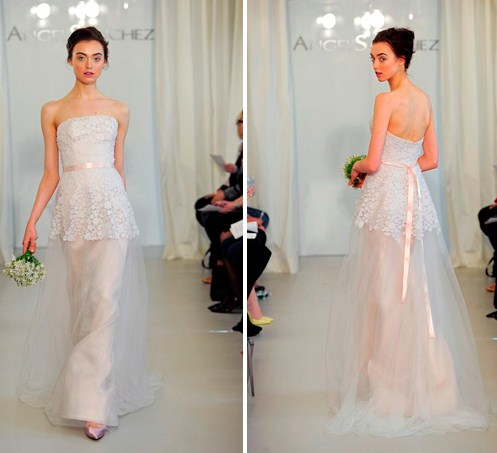 Armed with empowering lightweight and glamorous fabrics such as lace and tulle, Angel Sanchez is one of the designers who has successfully created a new 'multi-look' lace wedding dress design with the juxtoposition and mix of the two fabrics:  
Look once and you see a long A-line tulle skirt wedding dress with the tulle as an extention of the lace peplum. Look twice and you see a long straight pink satin skirt wedding dress with a free flowing lace peplum.
| | |
| --- | --- |
| | And to the left Amsale breaks up the long order of the one-piece lace sheath gown topped with a beautiful boned corset bodice by tying an assymetrical shaped satin peplum onto the waist. With this effortless design feature she creates an illusion of a voluminous traditional poufy skirt on the rise! |
Marchesa creates a very feminine and flowy long lace trail cascading down from the neckline of this short and sexy wedding dress.
SS 2014 collection

Caroline Herrera masterfully highlights the contours of this fish-tail wedding dress with the lace overlay and edging details along the neckline and below the knee line. SS 2014 collection
Monique Lhuillier presents the power of the different types of the lace fabric in the above short lace wedding dress looks. She merely drapes over the corset bodice using a light weight ethereal lace to amplify the sexiness of the foundation with elegance. And with a heavier and more textured lace, she creates a modern two piece lace short wedding dress with a long sleeve round neck open front jacket. 
You probably agree with me by now that lace is indeed a rich and powerful fabric in creating timeless unique wedding dresses. Especially for summer and destination weddings, lace wedding dresses will lighten you up and give you a super sexy and feminine look and feel! Also for winter weddings, keep in mind long sleeve wedding dresses in heavier lace. 
If you are still skeptical of the great ethereal qualities of lace wedding dresses, visit a few stores who have a great collection of lace wedding dresses or lace fabrics.
Look, touch and feel the different types of the textured and delicate lace fabrics and you will soon recognize and be sold on its glamorous qualities and legendary fashionable galore!
Back to Unique Wedding Dresses 
Back to Wedding Dresses i Love