How Romantic are Vera Wang Wedding Dresses?




Vera Wang Wedding Dresses debuted in 1990 at her first flagship bridal salon in the Carlyle Hotel on Madison Avenue in New York City.

This Native NewYorker of Chinese descent and former figure skater quickly cultivated her brand for her wide range of spectacular bridal  wear as well as for designing dazzling dresses for her clientele of elite ladies and figure skaters for competitions and exhibitions. Vera has expanded her brand beyond her fashionable bridal collection to include: Vera Wang on Weddings publishing, ready-to-wear, footwear, eyewear, fragrance, and bedding collections.
This multiple award winning designer's philosophy is all about encouraging women to explore freedom, their femininity through fashion while having fun with it!  She believes that women are sensual creatures and the clothes should make them feel sensual. 
...and if her design objective to create a personal journey for the brides isn't enough for those Corporate Social Responsible brides out there, rest assured knowing that the majority of the Vera Wang wedding dresses are manufactured in company-owned workrooms in United States. 
For romanticist and traditionalist brides…
| | |
| --- | --- |
| From classic figure-hugging silhouettes to royal ball gown wedding dresses Vera Wang knows how to sweep each bride off her feet.  | ...Vera Wang wedding dresses give every bride a different journey and experience. |
Vera emphasizes the importance of accounting for the veil shape and length together with hair style while creating the picture perfect bridal look.

Depending on which dress design you select you can romanticize the look with a long or short veil and matching hairdo.    
What makes a wedding dress a 'Vera Wang'?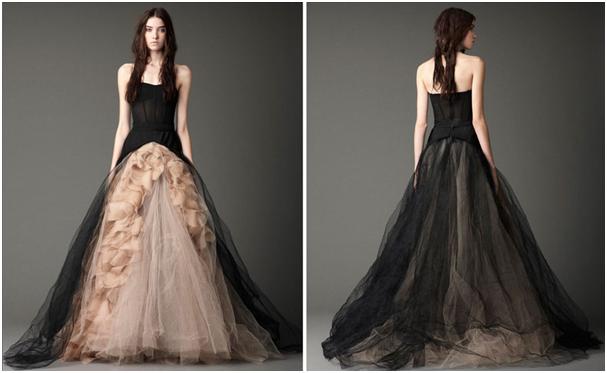 use of light fabrics such as guipure lace, tulle, chiffon, organza

swirling or horsehair or forthy ball gown or mermaid flared skirts.

statement lace bows of contrasting colors such as black on white

exploration of elementary and soft colors from nude to red and black.
In some Vera Wang collections there is not one traditional white or white dress in sight although all of her colored dresses can be produced in ivory upon request.
While black is surely a break from the white wedding dress tradition, it still embodies the basic elements all brides look for in their bridal gown: drama, elegance and sensuality. 
Where did the white wedding dress tradition come from anyway? 

Since 1840 when Queen Victoria wore a white gown for her royal wedding to her first cousin, Prince Albert of Saxe-Coburg and Gotha, it has become accepted and expected that brides, in the Western world anyway, wear white. 

Queen Victoria wore a gown of white satin, trimmed with white lace matching her veil, and a crown of orange blossoms. The only spot of color was the beautiful sapphire brooch Albert had given her as a wedding present.
The Evolution of Vera Wang designs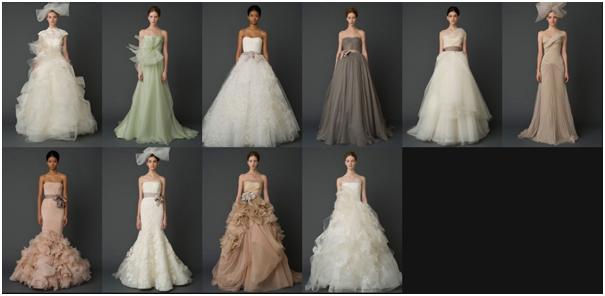 From Paris Opera's young dancers, Vera Wang infused her Spring 2012 collection with a playful art of tulle confection.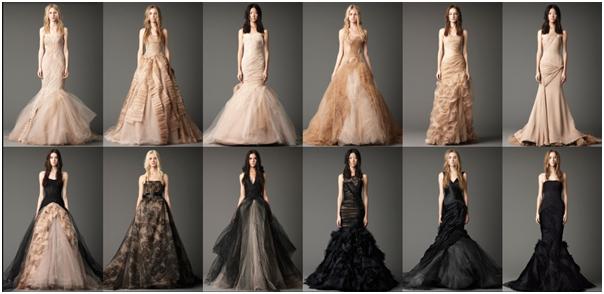 Her Fall 2012 Witchcraft collection with a mixture of black magic and nude colours was surprisingly soft, airy and light on the eyes. Inspired by black and nude undergarments Vera Wang created mysterious, sexy, frivolous and fun wedding dresses with transparent wisps of layered tulle and froth.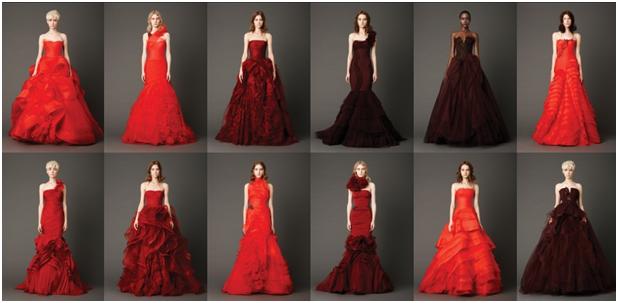 The Spring 2013 was inspired by the traditional Chinese wedding color palette and the celebration of love. The red-hued tulled skirts, décolletage overlays and details make a bold, edgy and yet warm statement for those brides who dare to scream out their love. 
The Fall 2013 is all about lace and reflects an exploration of laces all handwrought, pieced, appliquèd and tossed onto an assortment­­ of light, airy confections with a casual nonchalance.
Vera Wang has once again achieved her vision to encourage femininity and romance in her wedding dress designs by stepping up the classicism and ornamentation to a more ethereal level. 
Back to Designer Wedding Dresses
Back to Wedding Dresses i Love