Advantages:
Cheap wedding dresses. Of course, it is cheaper, on average for renting a wedding dress you might spend something like 250 to 600 USD on. Buying similar kinds of wedding dresses instead, is more likely to end up with an added zero behind those numbers: 2,500 to 6,000 USD. That money can also be spend on lots of other wedding related things well worth spending your money on such as your guests, your own house or a nice honeymoon.
Travel comfort. If you plan on a destination wedding, renting a wedding dress might just be the best thing for you to do. No extra luggage through the airport and no taking care of the dress before and after the wedding. Popular places like Hawaii and Las Vegas have great places for renting wedding dresses.
All inclusive option. Often you will have the option to include you accessories in the rental as well. In the end you know that, you will just like your wedding dress, just wear the wedding accessories once. Taking this option will save you more money!
No maintenance. A day after your big day…you return the rental wedding dress. No extra storage and special fabric preservative facilities are needed at your house.
Time saving. The all inclusive option might also save you a lot of time. If you find the right shop, you can trust that they have spend a lot of time on gathering very complete sets of rental wedding gowns and matching accessories.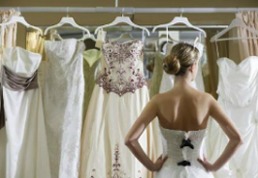 Disadvantages
Limited selection. Rental shops will only have a limited number of rental wedding dresses that you can choose from.
No alterations or limited. Buying cheap wedding dresses will give you the option to 'pimp' it up exactly how you like it and to fit your body perfectly. The rental shops won't give you that freedom. A minor alterations might be an option.
Usually a close to perfect fit. You have to choose from the available sizes. You most likely won't be able to find the perfect match.
Extra careful. As the total value of rental wedding dresses are almost 900% of the rental cost, you have to learn to be very careful with the rental wedding dress. Your deposit of 300 to 500 USD might not be enough if you damage it. Make sure you are comfortable with being extra careful on your special night, also when it is getting late and the wine starts to kick in.
No heritage for your children. Some families, traditions and cultures value the thought of transferring the super special wedding dress to their future daughter. That will not be possible for rental wedding dresses. Do however ask yourself if you would feel fortunate or uncomfortable when your mom would pull out her 30-year-old wedding dress to sway you away from your decision to rent a wedding dress.
Dependence. Even the best company cannot guarantee to deliver the dress you rented for your big day. Companies can go belly up sometimes and people sometimes make mistakes in delivering the right rental wedding dress to the customer who rented it. It's a risk you have to be ready for.
Ownership. You are not the prime owner of the wedding you have selected and know that it has been worn more than once.
Availability. Your selected rental wedding dress will be available 1-3 days before the wedding day.